VERIFY I-9, LLC is a full-service Form I-9 consultancy. In addition to
Form I-9 for remote hires
,
I-9 audits
and
E-Verify®
, we offer a number of services to ensure that your employees are authorized to work in the United States and that your I-9s will withstand the scrutiny of a government audit.
Policy & Process – A review of your current processes, or development of policies and procedures
Training & Assessment – Ensure that employees know how to complete Form I-9 correctly and legally
Acquisitions – Buying an existing business? Don't buy their unauthorized workers and defective I-9s!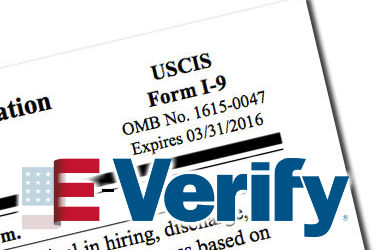 E-Verify® is the most effective tool for ensuring that your new hires are authorized to work in the United States. Applying for a business license or receiving a public contract? Our E-Verify service satisfies state laws and federal contractor rules that require E-Verify verification to qualify for public contracts or to maintain business licensing. We pride ourselves on prompt, personal service. When our client companies call, a live person answers the phone… usually one of the owners or a high-level manager. We have made E-Verify easy for thousands of employers from across the country!
Are your Form I-9s error free? The large majority of forms that we see every day contain at least one error and some, a half-dozen or more! If targeted by the USCIS for a random audit of employment documents, your company can be fined between $200 and $2,500 per form, depending on the number and severity of the errors. It pays to have your forms reviewed by an experienced professional. A growing number of corporations including Fedex and Publix Super Markets are requiring contractors to provide a third-party Form I-9 audit and/or proof of enrollment in E-Verify. A large number of employers have relied on our service to meet this requirement.
---
While rapid advances in digital communication have made it possible for businesses seeking the most qualified candidates to pull from a nationwide labor pool, government forms like Form I-9 have not kept up with the progress. Section 2 of Form I-9 must still be completed during a face-to-face meeting with the new hire to review original identification documents. Employers who violate federal law by "meeting" with the employee via a Zoom call or by viewing identification documents by email face fines in the tens of thousands of dollars.
Verify I-9 makes processing Form I-9 for remote employees easy!