Employers with 25 or more workers are required to enroll in North Carolina E-Verify. Employers who hire temporary seasonal workers for fewer than 90 days nine months within a consecutive 12-month period and private employers with 24 or fewer employees are not required to use EVerify in North Carolina.
Failure to comply can result in monetary penalties of $10,000 or more. The state must also notify U.S. Immigration and Customs Enforcement and local police.
Verify I-9's E-Verify service fully satisfies the requirements of the North Carolina E-Verify law.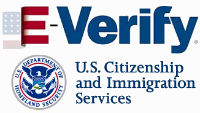 Verify I-9, LLC is an Employer Agent of the E-Verify program, approved by the United States Customs and Immigration Service to verify the workforce of employers in all 50 states.
We take the headaches and confusion out of E-Verify! We make E-Verify
easy

.

Our service brings your company into compliance with new state laws, federal contractor rules and local ordinances that require verification to qualify for public contracts or to maintain business licensing.

HB-318 (2015: Complaints, sanctuary cities and ordinances, identification documents)

[NOTE: This information is presented for general educational purposes only. It is not legal advice, neither expressed nor implied. You should consult with legal counsel before acting on the information found on this page or for any employment law matter. This information is subject to change without notice. This page was last updated on June 29, 2016.]