Effective August 10, 2016
House Bill 16-1114, which will go into effect on August 10, 2016, eliminates the need by Colorado employers to complete a separate state employment verification attestation. The new law also eliminates the state requirement that the employer copy identification documents, a function which is optional under federal law.
Colorado's Employment Verification Law, C.R.S. 8-2-122, applies to all public and private employers who transact business in Colorado, and is in addition to separate federal Form I-9 requirements.
Colorado Private Employers
There are two main requirements, both of which must occur within 20 calendar days of hire:
an affirmation requirement, and
a requirement to make and retain copies of employee identity and employment authorization documentation (copies of the employee's identity and employment authorization documents which were presented for completion of the Form I‐9).
The Affirmation: Each employer in Colorado shall make an affirmation within 20 calendar days after hiring a new employee.
Employers must affirm that they have "examined the legal work status" of the new hire and "have not knowingly hired an unauthorized alien."
The affirmation form, with additional instructions, can be downloaded here.
Copies of Identification Documents: The employer must keep a written or electronic copy of the employee's documents required by 8 U.S.C. sec. 1324a (commonly known as Form I-9 identity and employment authorization documents). The copies must be retained for the term of employment of each employee. (Note: this differs from federal law, which does not require employers to retain copies of the identity and authorization documents unless enrolled in E-Verify, where certain document copies must be retained.)
The employer does not submit the documents described above to any Colorado government agency, unless specifically requested. However, the employer must keep a written or electronic copy of the affirmation for the term of employment of each employee.
Employers may complete the affirmation form before the person begins work as long as he/she has been offered and has accepted the job; it may not, however, be used as a pre-screening tool.
Compliance with federal Form I-9 or E-Verify requirements is not a substitute for complying with Colorado's Employment Verification Law.
The Problem: The Colorado law requires employers to affirm that they have not hired an unauthorized worker, but it does not require employers to enroll in E-Verify, the best way for employers to ensure a legal workforce. The Colorado law also does not allow employers to enroll in E-Verify instead of completing the affirmation. Regardless, Colorado employers can voluntarily enroll in E-Verify, where the employer will be able to confirm employment eligibility before completing the affirmation.
Colorado E-Verify Resources
Colorado Public Contracts for Services
Effective May 13, 2008, contractors who enter into or renew a public contract for services with Colorado state agencies or political subdivisions must participate in either the federal E-Verify program, OR the Colorado Department of Labor and Employment Program ("Department Program"). The option to enroll in the Department Program instead of E-Verify was created by Colorado State Senate Bill 08-193, which amended the Public Contracts for Services and Illegal Aliens Law, § 8-17.5-101 and 102, C.R.S.
The "Department Program" is essentially the same as for private employers– the contractor must, among other things, complete an affirmation similar to that described above and include a copy with the public contract or renewal.
Resources for Colorado Public Contractors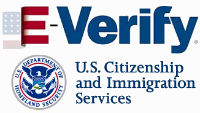 Our E-Verify service satisfies the requirements of the Colorado employment law and is being used by numerous Colorado employers.
Verify I-9, LLC is an Employer Agent of the E-Verify program, approved by the United States Customs and Immigration Service to verify the workforce of employers in all 50 states.
We take the headaches and confusion out of E-Verify!
We make E-Verify
easy

.

Our service brings your company into compliance with new state laws, federal contractor rules and local ordinances that require verification to qualify for public contracts or to maintain business licensing.

[NOTE: This information is presented for general educational purposes only. It is not legal advice, neither expressed nor implied. You should consult with legal counsel before acting on the information found on this page or for any employment law matter.This information is subject to change without notice. This page was last updated on November 14, 2014.]