The Beason-Hammon Alabama Taxpayer and Citizen Protection Act, considered to be the toughest illegal immigration law in the nation, required all employers of one or more employees to enroll in E-Verify.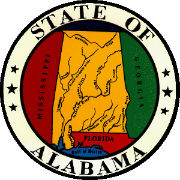 State, County & Local Contracts, Grants & Incentives: Contractors and sub-contractors must prove enrollment in E-Verify to be awarded or work on a public contract or grant. If any business that is working on a public contract is found to not be enrolled in E-Verify, that contract may be terminated and the business's license can be suspended for 60 days. For a second violation, the company's license to do business in the state may be permanently revoked. This requirement regarding public contracts became effective on January 1, 2012.
Other provisions within the law include:
Creates an affirmative defense against business penalties if E-Verify is used. Prohibits lawsuits against businesses that fire an employee due to an E-Verify final non-confirmation determination.
The section of the law prohibiting the hiring of an unauthorized alien does not apply to the relationship between a business and an independent contractor (subject to certain conditions for public contractors). However, an independent contractor is considered to be a business that must comply with this law.
Hiring of Unauthorized Alien Prohibited. The law prohibits the hiring or continued employment of an unauthorized alien. A business found to employ an unauthorized alien (first offense) will be ordered to terminate all illegal workers; be subject to a three-year probationary period including quarterly reports of new hires; and have its business licenses and permits suspended for up to 10 business days. For a second violation, business licenses and permits will be permanently revoked. For a subsequent violation, the business will be banned from doing business within the state forever.
Who Must Enroll: The E-Verify requirement applies to all "business entities" and "employers." Those terms include:
Any person or group of persons performing or engaging in any activity, enterprise, profession, or occupation for gain, benefit, advantage, or livelihood, whether for profit or not for profit,
self-employed individuals,
business entities filing articles of incorporation,
partnerships,
limited partnerships,
limited liability companies,
foreign corporations,
foreign limited partnerships,
foreign limited liability companies authorized to transact business in this state,
business trusts,
any business entity that registers with the Secretary of State,
any business entity that possesses a business license, permit, certificate, approval, registration, charter, or similar form of authorization issued by the state,
any business entity that is exempt by law from obtaining such a business license,
any business entity that is operating unlawfully without a business license.
Employers:

any person, firm, corporation, partnership, joint stock association, agent, manager, representative, foreman, or other person having control or custody of any employment, place of employment, or of any employee,
any person or entity employing any person for hire within the State of Alabama, including a public
The term "employer" shall not include the occupant of a household contracting with another person to perform casual domestic labor within the household.
Your Options in Alabama: There are numerous reasons why you should hire an Employer Agent like us to manage your verification program, instead of trying to do it yourself. In Alabama, however, you have a third option– a state-run Employer Agency operated by the Alabama Department of Homeland Security. Don't get caught up in even more government bureaucracy where you're just one more person on endless telephone hold, unable to talk to a human being. Let us provide the professional, personal service that you need and deserve!
Quick and Convenient!
Enroll in E-Verify Today
Enroll in E-Verify via our agency and avoid the signup delays, tutorials and 31-question mastery test. Let an experienced and knowledgeable professional manage your E-Verify participation. We make E-Verify easy!
Sign Up Now
Contact Us
Disclaimer
This information is presented for general educational purposes only. Although we are very experienced in this area of E-Verify law and processes, the information herein is not legal advice, neither expressed nor implied. You should consult with legal counsel or the appropriate government agency before acting on this information or for any employment law matter. Your access of this information does not create an agency or other business relationship where one does not already exist. This information may or may not be current and is subject to change without notice.