Need information about Georgia E-Verify? We've got it!
E-Verify is voluntary, for the most part, on the federal level but many states including Georgia have enacted state laws requiring employers to enroll. In Georgia, generally, you must enroll in E-Verify if:
You employ more than 10 full-time employees; or
You hold a public contract, which is a contract with a city, county, the state, a school board, etc.
"Federal work authorization user identification number" is the unnecessarily long name in Georgia law for the EVerify Company ID Number, which is the number assigned to your company when you enroll in the program.
Our E-Verify service satisfies the requirements of the Georgia E-Verify law and is being used by numerous Georgia employers.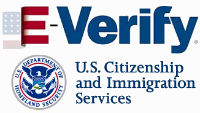 Verify I-9, LLC is an Employer Agent of the E-Verify program, approved by the United States Citizenship and Immigration Service to verify the workforce of employers in all 50 states.
We take the headaches and confusion out of E-Verify! We make E-Verify
easy

.
More E-Verify Answers