SB20, effective January 1, 2012, mandates the use of E-Verify for all private employers. Contractors and sub-contractors holding a public contract are also required to enroll.
Employers may no longer confirm a new employee's employment authorization with a driver's license or state ID card only. Employers must enroll in E-Verify.
Employers who have failed to enroll in E-Verify may be subject to audit and, if they have failed to verify a new employee hired after July 1, 2012, the Department of LLR must place the employer on probation for a period of one year, during which time the private employer must submit quarterly reports to the agency demonstrating compliance with the law. A subsequent violation within three years of the law's verification requirements must result in the suspension of the private employer's licenses for at least 10 days but not more than 30 days. Employers cited
A private employer who knowingly or intentionally employs an unauthorized alien must have his licenses suspended by the Department of LLR on a first occurrence for at least 10 days but not more than 30 days. During the period of suspension, the private employer may not engage in business, open to the public, employ an employee, or otherwise operate. The private employer's licenses are reinstated when the employer demonstrates that the unauthorized alien has been terminated, and pays a reinstatement fee equal to the cost of investigating and enforcing the matter, not to exceed $1,000. For a second occurrence, the employer's licenses must be suspended for at least 30 days but not more than 60 days. Following a third occurrence, the private employer's licenses are revoked.
Verify I-9's E-Verify service fully satisfies the requirements of the South Carolina E-Verify law.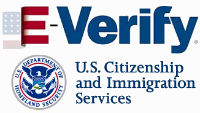 Verify I-9, LLC is an Employer Agent of the E-Verify program, approved by the United States Customs and Immigration Service to verify the workforce of employers in all 50 states.
We take the headaches and confusion out of E-Verify! We make E-Verify
easy

.

Our service brings your company into compliance with new state laws, federal contractor rules and local ordinances that require verification to qualify for public contracts or to maintain business licensing.

[NOTE: This information is presented for general educational purposes only. It is not legal advice, neither expressed nor implied. You should consult with legal counsel before acting on the information found on this page or for any employment law matter. This information is subject to change without notice. This page was last updated on December 10, 2015.]