Florida has enacted a new law regarding E-Verify. The new law went into affect on July 1, 2020, and all affected employers must comply by January 1, 2021. Under the new law:
All public employers including school districts, public universities and colleges, and government agencies at all levels must enroll in and use E-Verify to verify new hires;
Private employers who hold a public contract as the primary contractor with a Florida government agency at any level must enroll in E-Verify;
Subcontractors working on a Florida public contract must enroll in E-Verify. The subcontractor must provide the primary contractor with an affidavit stating that the subcontractor does not employ unauthorized aliens, nor does the subcontractor contract or subcontract with illegal aliens. The primary contractor is required to retain any such affidavits for the duration of the contract.
Private employers who do not hold a public contract are not required to participate in E-Verify; however, they are required by the new state law to copy identification documents used to complete Form I-9 and maintain them for three years (the copying of ID is optional for non-E-Verify employers under federal rules).
The Florida E-Verify law gives several state law enforcement entities the authority to demand copies of any documentation relied upon by a private employer for the verification of a person's employment eligibility, including, but not limited to the results of an E-Verify verification, Form I-9 and copies of identification documents presented by the employee:
The Department of Law Enforcement;
The Attorney General;
The state attorney;
The statewide prosecutor.
Employers who fail to comply with the new Florida E-Verify law risk losing their licenses to do business in the state.
Our E-Verify service satisfies the requirements of the Florida E-Verify law and is being used by numerous Florida employers.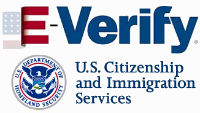 Verify I-9, LLC is an Employer Agent of the E-Verify program, approved by the United States Customs and Immigration Service to verify the workforce of employers in all 50 states.
We take the headaches and confusion out of E-Verify! We make E-Verify
easy

.

Our service brings your company into compliance with new state laws, federal contractor rules and local ordinances that require verification to qualify for public contracts or to maintain business licensing.

Learn more about how our "No Headaches" E-Verify service can benefit you or

[NOTE: This information is presented for general educational purposes only. It is not legal advice, neither expressed nor implied. You should consult with legal counsel before acting on the information found on this page or for any employment law matter. This information is subject to change without notice. This page was last updated on December 22, 2020.]