Utah's E-Verify law requires Utah employers with 15 or more workers to enroll in E-Verify. In determining whether or not an employer must enroll based on employee count, the employer is not required to count legal guest workers (H-2A & H-2B). Employers enrolled in E-Verify will receive an exemption from penalties under state law should a company using E-Verify inadvertently hire an illegal worker.
After enrolling in E-Verify, employers must also register with "Secure Utah," a state agency. The state maintains a list of all those who enroll in the program, presumably to encourage the public to monitor which businesses follow the rules and to reward them with their business.
Verification for Public Contracts: Utah employers who have contracts with state or local government agencies are required to use the E-Verify system, regardless of the number of employees. This requirement became law in July 2009.
Verify I-9's E-Verify service fully satisfies the requirements of the Utah E-Verify law.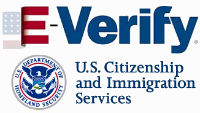 Verify I-9, LLC is an Employer Agent of the E-Verify program, approved by the United States Citizenship and Immigration Service to verify the workforce of employers in all 50 states.
We take the headaches and confusion out of E-Verify! We make E-Verify
easy

.

Our service brings your company into compliance with new state laws, federal contractor rules and local ordinances that require verification to qualify for public contracts or to maintain business licensing.

[NOTE: This information is presented for general educational purposes only. It is not legal advice, neither expressed nor implied. You should consult with legal counsel before acting on the information found on this page or for any employment law matter. This information is subject to change without notice. This page was last updated on January 17, 2018.]