SB 1965/HB 1830 amends the "Tennessee Lawful Employment Act" to make it mandatory for private employers with 50 or more employees under the same FEIN to use the federal E-Verify employment verification process. This applies to employees working in or outside the state of Tennessee. The law also creates an additional $500 civil penalty per day if the employer fails to use E-Verify.
Employers of between six and 49 employees can comply with the law by:
enrolling in E-Verify, either directly or through an Employer Agent, to verify employment eligibility; or
requesting all newly hired employees and "non-employees" to provide one of the identity and employment authorization documents approved by the state of Tennessee.
Employers with fewer than six employees are not required to use E-Verify.
Legislation adopted in 2016 shortens the number of days that an employer has to remedy a non-compliance finding after receipt of an initial order for violation of the state's E-Verify requirements from 60 to 45.
Our E-Verify service satisfies the requirements of the Tennessee E-Verify law and is being used by numerous Tennessee employers.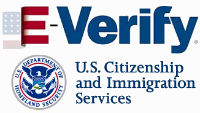 Verify I-9, LLC is an Employer Agent of the E-Verify program, approved by the United States Citizenship and Immigration Service to verify the workforce of employers in all 50 states.
We take the headaches and confusion out of E-Verify! We make E-Verify
easy

.

Our service brings your company into compliance with new state laws, federal contractor rules and local ordinances that require verification to qualify for public contracts or to maintain business licensing.

More information about the Tennessee law.

[NOTE: This information is presented for general educational purposes only. It is not legal advice, neither expressed nor implied. You should consult with legal counsel before acting on the information found on this page or for any employment law matter. This information is subject to change without notice. This page was last updated on February 6, 2018.]