On June 10, 2015, Gov. Greg Abbott signed a bill that requires state agencies and institutions of higher education to use E-Verify. The new law supersedes does not supersede* an executive order by former Gov. Rick Perry that also required state contractors and sub-contractors to enroll in E-Verify to qualify for public contracts. The new law does not require public contractors to enroll.
While numerous bills requiring E-Verify for private employers (those without state contracts) have been considered by committees of the Texas State Legislature, none have made it through the process to enactment. E-Verify remains voluntary for Texas employers; however, thousands of Texas employers have enrolled in the service that is offered by Verify I-9, LLC.
Texas EVerify Made Easy!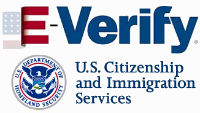 We are an Employer Agent of the E-Verify program, approved by the United States Customs and Immigration Service to verify the workforce of employers in all 50 states.
We take the headaches and confusion out of E-Verify! We make Texas EVerify
easy

.

Our Texas EVerify service brings your company into compliance with the executive order, which requires E-Verify enrollment for companies contracting with state agencies including the Department of Family and Protective Services, Department of Assistive and Rehabilitative Services, Affordable Housing Corporation, Department of State Health Services and others.

This page last updated March 17, 2016